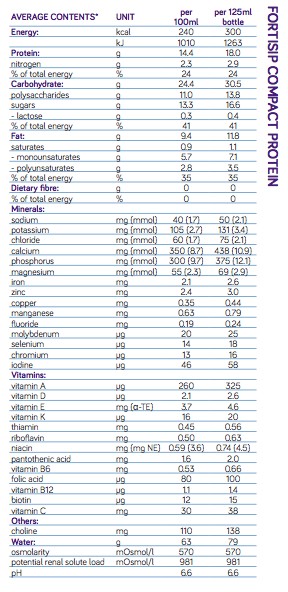 Indications
For enteral use only. ACBS approved, prescribable on form FP10 (GP10 in Scotland) for the following indications: short bowel syndrome; intractable malabsorption; pre-operative preparation of undernourished patients; inflammatory bowel disease; total gastrectomy; dysphagia; bowel fistulae; disease related malnutrition.
Contraindications
Not suitable for children under 3 years of age. Not suitable for patients with galactosaemia.
Precautions
Not suitable as a sole source of nutrition. Monitor fluid intake to ensure adequate hydration status.
Directions for use
Fortisip Compact Protein is ready to drink and is best served chilled. Shake well before opening. Recommended dose is 1-2 bottles per day, unless specified by a clinician or dietitian.
Storage
Store in a dry, cool place (5-25°C). Shake well before use.
Once opened, close the bottle and store in a refrigerator for a maximum of 24 hours.